Jane Brett has been co-opted onto the parish council, bringing the number up to 10 councillors, which is a full complement. Here is a brief profile written by Jane herself.
"My parents are locals so I was born and raised in Sunningdale, attending Holy Trinity School before going on to Windsor Girls' School.  Afterwards I moved away to attend art college and then worked in London and Brussels before I returned to the area in 1987.  I moved back to Sunningdale in 2006 and live in Clarefield Court.  I love the countryside and volunteer for Surrey Wildlife Trust.  I help survey the wildlife on Chobham Common and clear gorse and other scrub so the heathland remains.  I am also a keen walker and most weekends I have a walk either on the common, in Windsor Great Park or around Sunningdale. I would like to see Sunningdale retain its village identity whilst also having the amenities needed for the local community to thrive in the long-term."
Posted July 14, 2016.
---
The Planning Meeting which was scheduled for August 2, 2016 has been cancelled.
Posted July 11, 2016.
---
Charters Youth Club Summer Activities. This flyer gives details of activities during the summer holidays at Charters.
Posted July 5, 2016.
---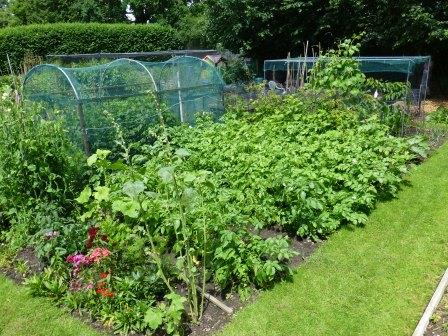 Best Allotment 2016. There were two stand out plots this year. In a split decision, as they say in boxing parlance, Ann and Roy McEwan just beat Geoff Newis to first prize. Pam and David Stanley were 3rd, while Caroline Rutherford won Best Newcomer. The full results can be found on the Allotments page.
Posted July 4, 2016.
---
Picnic in the Park
The slideshow above contains a belated selection of pictures from last month's Picnic in the Park to celebrate the Queen's 90th birthday.
Posted July 1, 2016.
---
Anne's Bench. Anne Martin, the parish council clerk from 2007 to 2016, retired at the end of May. Council commemorated her tenure with the installation of a bench at the recreation ground.
Posted July 1, 2016.
---
New service to support unpaid carers. You may be aware that the Berkshire Carers Service ceased to operate at the end of March 2016. RBWM's new service for supporting unpaid carers is supplied by The Ark Trust Ltd through its Signal project. See the Signal website for further information and read its welcome newsletter.
Posted July 1, 2016.
---