Petition
We, the undersigned, wish the Royal Borough of Windsor and Maidenhead to consider reducing the recently implemented 18 tonne weight limit on the Chobham Road railway bridge to a maximum of 7.5 tonnes.
We are concerned that the large lorries pose a safety risk due to the limited road width of the bridge causing the vehicles to cross the centre double-white line and limits visibility to on-coming traffic.
Download the form to sign here.
Signatures will be presented to RBWM cabinet on 28 July 2015. Forms returned to Parish Council, Broomhall Lane by 9.30am on 27 July or scanned to info@sunningdaleparish.org.uk
——
The Parish Council celebrated the accomplishment of Heathermount boys, Josh Giddens (pictured below) and Jack Wise, who had completed three and two years work experience respectively. The boys have been working with Graeme Kennedy every Tuesday learning the range of tasks involved in keeping the Recreation ground and the cemetery in good order.  The Parish Council has greatly benefitted from their hard work, while the boys have grown in confidence and skills.  They leave Heathermount to go to  college in the autumn.  Picture below shows Graeme making a presentation to Josh.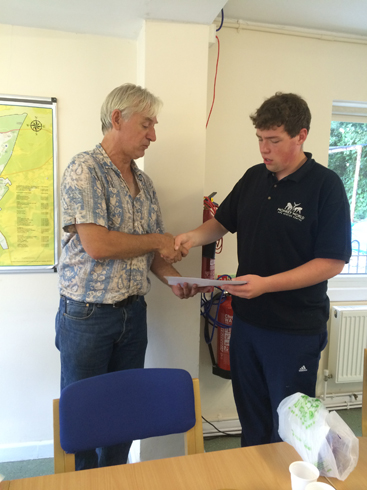 ————-
School holidays begin on 22nd July.  
Daytime Leisure will be bringing a bouncy castle, slide and play golf to the park on the following days: 11, 18, 22, 25, 28, 30  July and every Tuesday and Thursday in August until end of August.  The Parish Council is pleased to offer this extension of our play facilities by partnering with Daytime Leisure who take full responsibility for insurance and supervision of the children.
——————————-
Charters Tennis are holding summer holiday session on the tennis courts in Broomhall Recreation from Monday 27 July to Friday 28 August.
10 am – 12pm 5-9 year olds (£12 per session (£9 with discount).
1pm – 3pm  10 years upwards.
Full information email: charterstennis@btinternet.com
Phone 01256 463673 or visit www.charterstennis.co.uk
_________________________________
WILLIAM PACK CUP FOR BEST ALLOTMENT
 This year the panel of judges looked at the Sunningdale Parish Allotments and awarded as follows:
 1st             Pat Bond                   Plot 31a
  2nd           Mary Alexander       Plot 4
 3rd             Daphne Evans           Plot 30
 Highly Commended:
Glen & Robert Couper   Plot 30a
Julie Henley-Wilkinson and Warren Wilkinson Plot 27
Commended:
Geoff Newis  Plot 34b
Pam & David Stanley  Plot 40
Diana Vernon-Smith & Jeanette West  Plot 45
The Best Newcomer:   Nihal Gunersekera Plot 6
Highly Commended Newcomer:  Lucy & Dave Williams Plot 43
——————
Ascot Volunteer Bureau is a small local charity that provides transport to medical appointments for the elderly residents of Ascot, Sunninghill and Sunningdale. Increases in its workload means that it has an urgent requirement for additional volunteer drivers. Have a look at its website for further details if you may be interested. http://ascotvolunteerbureau.org.uk/
————————
BEN Lynwood Fete and Vintage and Classic Car Rally on 4th July from 12.30pm – 4.30pm at the Recreation Ground.  
For further details on the Summer Fete please email warren.neal@ben.org.uk or call 01344 298137. Or visit www.ben.org.uk/fete15.